Rip, rip, rip!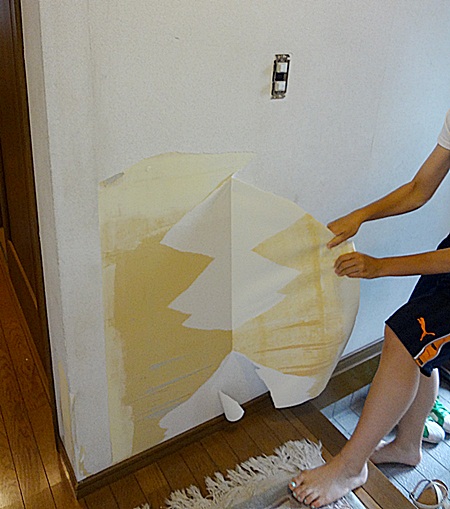 I knew once it was peeled I was gonna have to complete it.


So,,,


Covered up where it shouldn't be painted.




I found masking tape with plastic sheet at DIY shop


so that when the skirting board is masked,


the floor is covered, too!


The rest of the floor is taken care of with newspapers.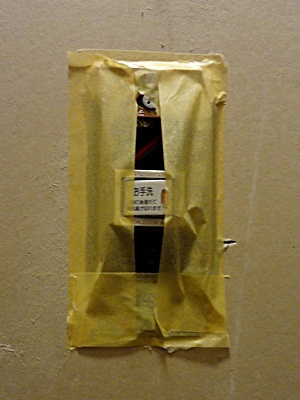 I used normal masking tape except the floor.



And,,,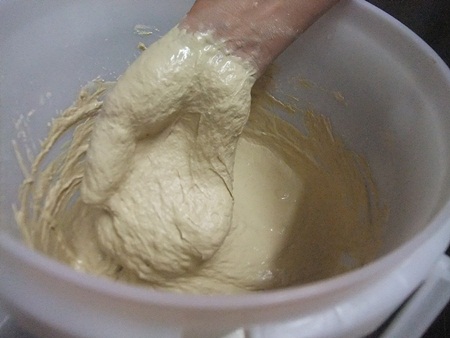 Mix kieselguhr up!



Plaster requires rubber gloves because it's alkalic
but kieselguhr can be handled with bare hands.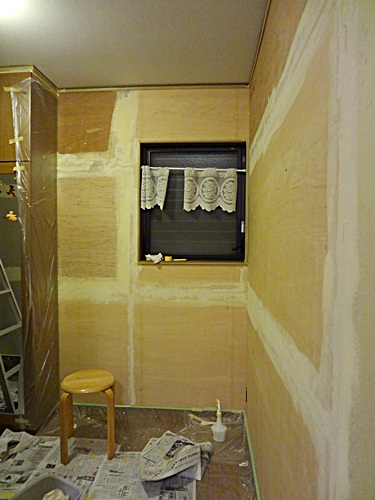 Most of the wall is plaster board but partly wood



that I can hung frames.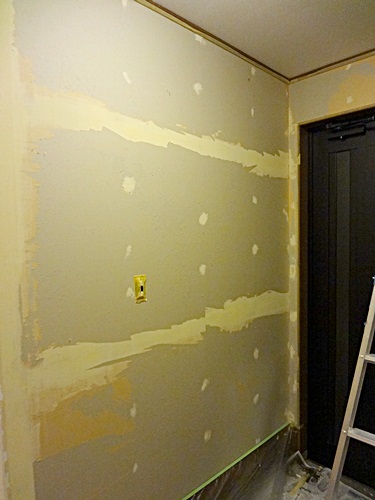 I applied putty to cover the dent of screws
and the slits between boards.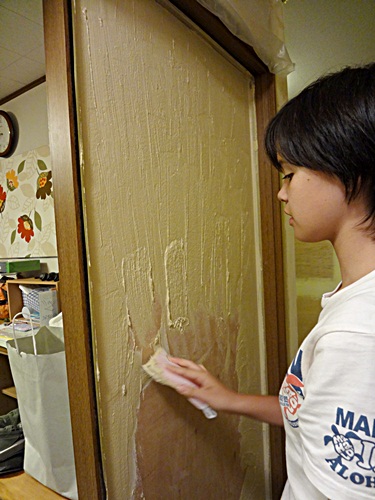 Put kieselguhr on the wall with sponge.


It's Fujiwara Chemical made.


It's 8800yen for a big box that covers about 10㎡.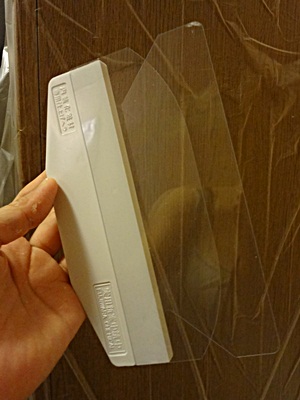 Smooth the spoged surface with a trowel called Smoody.



This trowel has two plastic blades that the pressure is exarted
evenly to flatten the surface.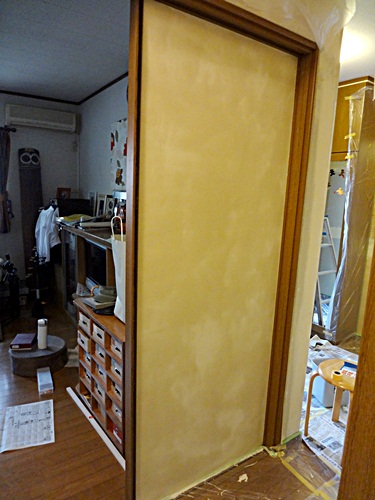 One door's done.



Wow, it's rather easy!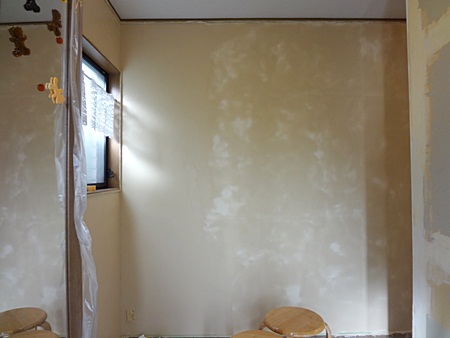 One side of the corridor is done. Well done!



Took tha whole box for one side.(@@)



And I found labor of painting makes me hungry.




Rakugan is one of Japanese sweets
that insists of sugar and very fine rice pouder.

Finely grinded once steamed sticky rice is called "mijinko".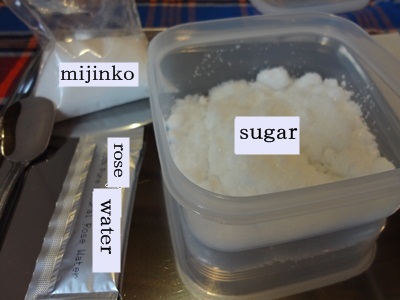 We prepared some water with food colour to make it slightly red and blue.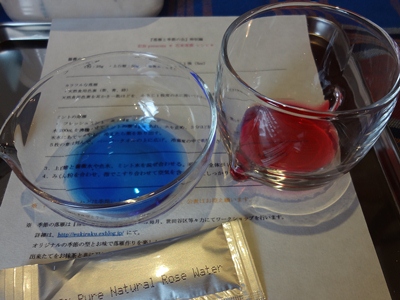 Add some coloured water into the sugar and mix it with finger tips.
Add mijinko to it.


These are molds. Some are made of plastic, some are porcelain.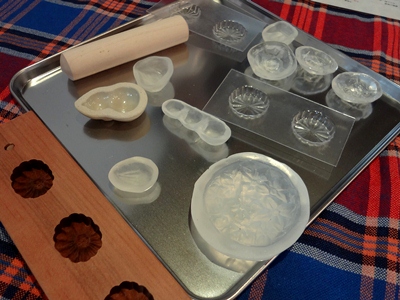 The wooden mold is really expencive as 10000yen.


Stuff the mixture itnto the mold and cram in.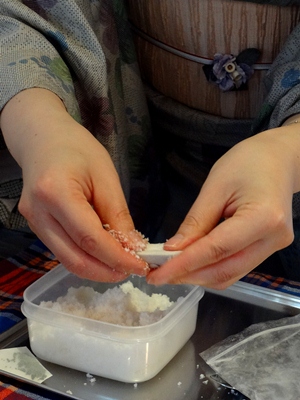 Then, smack the mold from bihind to take it out.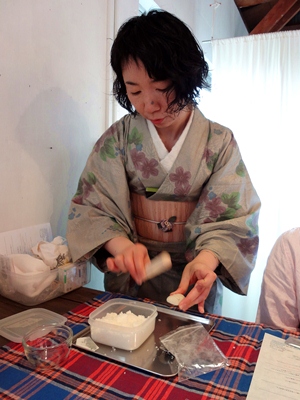 Look at it done!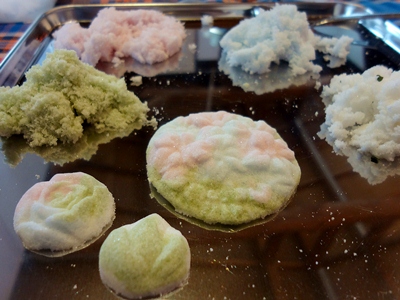 Hydrangeas, roses, and lotus buds.

Chrysanthemum and gourd.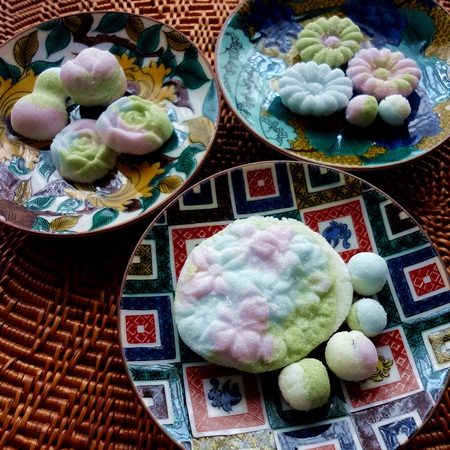 I took them back home and had very strong green tea.

Time went by so slowly.

More


I have a white cell phone.
I've got it for more than 4years.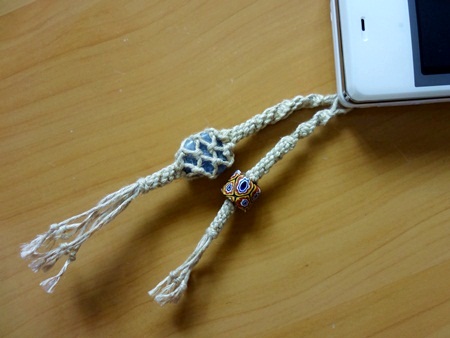 These charms are made with hemp yarn.

I bought the colourful bead at an Indian shop in a shopping mall.

As I remember it was only 300yen or so.

Last week, I went to Antique Mall in Ginza.

There were similar beads there and

to my surprise, all of them are more than 2000yen!

I mean each one of them is 2000! Not all included.


The other stone was one of "stones in a cup for 500yen".

There were more than 30 pebbles like this,

so it was a little more than 15yen. Ha!

Hemp yarns are made from linen. They don't last forever.

The charms wear off in about a year or a year and a half.

That means I have to make another again.

These are the third set and the parts connected to
the cell phone body are getting thinner...

Can you guess how hard it is to make the net with 8 lines?

Half way through the netting, I get really frustrated and want to scream!!!

NOT! ;b

I am so fond of making complicated little things.






this is just memorandums of what I make and my cats.

i make things that ordinary people make.

i also make things people usually do not even think of making.

this is the first thing i want to introduce.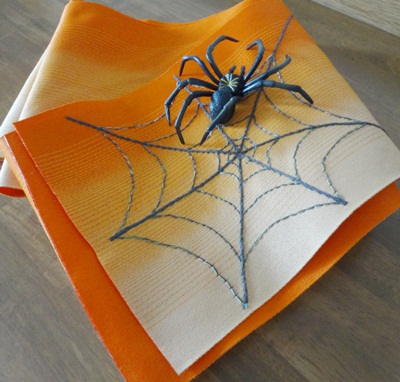 this is the sash for kimono i embroidered for last year's halloween.

it took about 3 days.

from the centre, i just made a few lines
-actually 7- outwards with my nails.

along the marks i embroidered the thick lines

and after that, a thin spiral line.

it was just fun because the sash is as cheap as 1800yen

and i could always redo the embroidery.

no stress, but just simply fun!

the spider is the one i used to pin on a wall to decorate.

fastening a sfety pin at the behind of it with a thread,

it made a good brooch.

i got praised for them. :)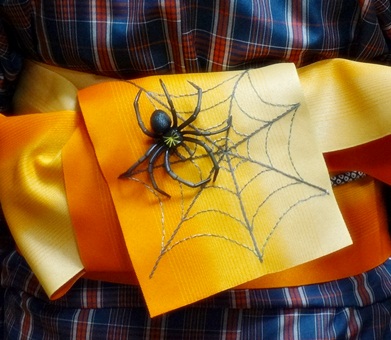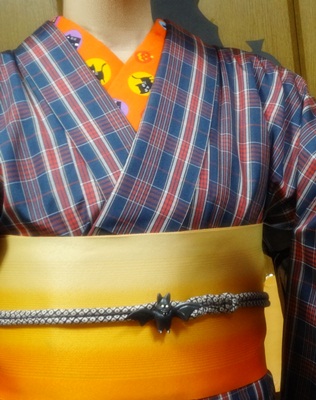 the orange collar has pics of cats,
jack-o-lunterns and haunted houses.

the cloth was only 380yen per 1m. ha!

actually, i also made this kimono belt.

fixing a piece of cloth around a thin rope took 2 days.

this bat brooch was a finger puppet.

i made 2 holes at the back to put the belt through.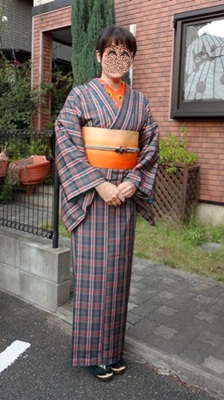 How's this?!