I have a white cell phone.
I've got it for more than 4years.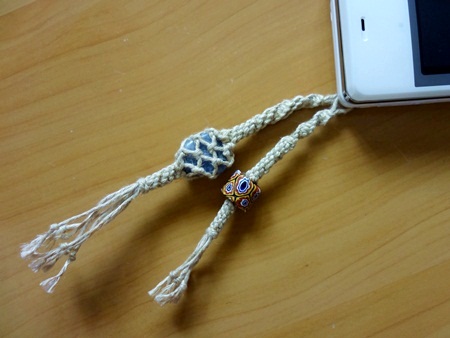 These charms are made with hemp yarn.

I bought the colourful bead at an Indian shop in a shopping mall.

As I remember it was only 300yen or so.

Last week, I went to Antique Mall in Ginza.

There were similar beads there and

to my surprise, all of them are more than 2000yen!

I mean each one of them is 2000! Not all included.


The other stone was one of "stones in a cup for 500yen".

There were more than 30 pebbles like this,

so it was a little more than 15yen. Ha!

Hemp yarns are made from linen. They don't last forever.

The charms wear off in about a year or a year and a half.

That means I have to make another again.

These are the third set and the parts connected to
the cell phone body are getting thinner...

Can you guess how hard it is to make the net with 8 lines?

Half way through the netting, I get really frustrated and want to scream!!!

NOT! ;b

I am so fond of making complicated little things.